Player Sign In System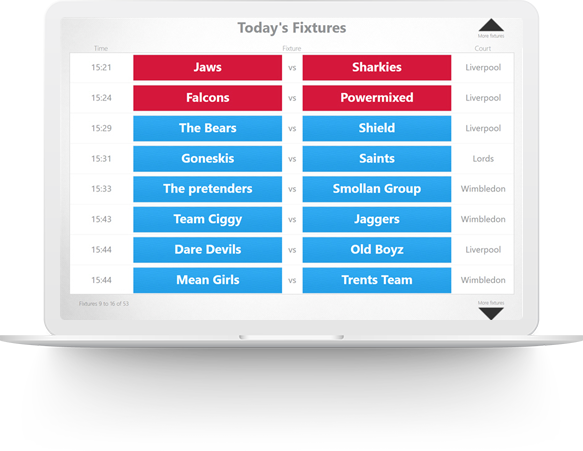 In conjunction with the Spawtz League and Venue Management Software, you can also use the Player Sign In System to allow fixture participants to sign in for games at your arena.
All you need is a touchscreen computer, and the Player Sign In System automatically communicates with the central database to download the day's fixtures and allow participants in those fixtures to sign themselves in.
You can also use the sign in system to communicate outstanding balances to teams and to allow team captains to add players to their teams.
You can explore the functionality of the application below or by downloading the trial version.
Fixture Grid

The Player Sign In System automatically displays a list of all the fixtures due to be played at your arena that night. Players simply select their fixture by touching their team name on the touch screen.

Team Outstanding Balances

If a team has an outstanding balance, the sign in system will alert the person trying to sign in for that team that they owe money and should settle their account before the fixture starts.

Select Players

Team captains or players select the people who are playing in the fixture by touching their name on the screen. Each sport can allow a different number of maximum, minimum and standard players to be signed in for a game.

Player Outstanding Balances

Any players with outstanding balances will be warned of that outstanding balance when they sign in so they too can bring their account up to date.

Team Details

Using the Player Sign In System and the pin number that has been assigned to their team, team captains can update the details of their team before starting the fixture. They can add players, remove players, update email addresses etc.