League and Venue Management Software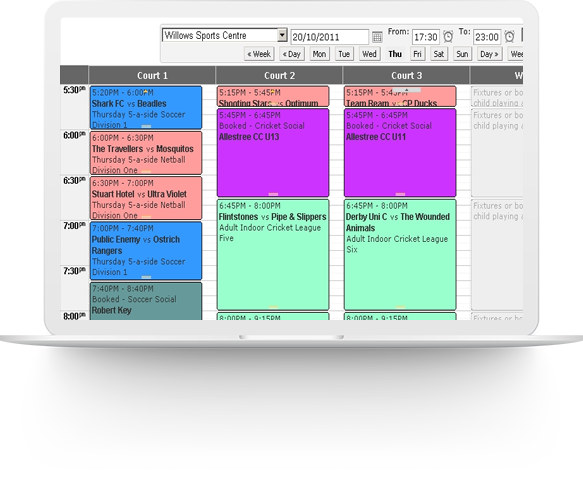 The Spawtz.com League and Venue Management system is a fully featured league and venue management system for sports organisations, providing functionality to accept team and individual registrations online, accept card payments, accept court bookings online, generate fixtures for leagues, update and display fixtures, standings and results online, contact your player database by email or SMS and much more
However, the most important feature of the Spawtz.com sports management application is its flexibility. We recognise that each client has vastly differing requirements for displaying results, capturing registration information and accepting bookings.
That is why we create a completely customised site for each customer. A site that fits in seamlessly with your site, not ours. With no setup fees. See our Clients section for a look at some of the vastly differing sites we have created.
You can explore the functionality of the application below or by accessing the online demo.
Below are some features of the software. For a full example of how the system works, please see the demo.
Accept Registrations Online

Accept registrations from teams or individuals online. Create teams from groups of individual registrations and give your team organisers great tools to help them organise their team and therefore cut down on the number of forfeits that occur.

Accept Payments Online

Use any standard online payment gateway to accept payments online, such as PayPal, Blue Snap, Stripe, SagePay etc. And each region, venue or even league within your database can use a different payment gateway, enabling you to offer a franchise model whereby your franchisees are paid directly, and you don't have to manage their cashflow for them.

Specify Team Preferences

Specify which times a team would like to play at and which times they would not. The fixture generation process will then try to take these preferences into account, and will flag any instances where it was unable to adhere to a team's preferences.

Fixture Generation Conditions

Along with team preferences you can also specify conditions that must be met when generating fixtures. For instance, you can specify that teams should play no more than 1 fixture on Sundays, or no more than 1 fixture at 21:00 to ensure that no teams get too many late or Sunday games.

Generate Fixtures

Take the grunt work out of generating fixtures. Automatically create hundreds of fixtures at once based on specific conditions that you set, and team preferences that you indicate.

Calendar

View all the fixtures and bookings at a venue on a calendar by day or by week. Drag and drop fixtures or bookings to move them around, drop them on top of on another to swap them, drag and click on available times to create new fixtures or bookings. Click on team names to display contact information for the captain, and even email or SMS direct from the calendar to teams and players. Read More...

List view

View all the fixtures and bookings at a venue in a list. Update the costs, payments, results, officials and notes for some or all of the fixtures and bookings in one go. Print out the report to leave with your duty managers or bar staff.

Social Networking

Spawtz can automatically post to your Twitter account whenever a result is entered in the system, and you can allow players to share results, standings, stats and scoresheets directly onto their Facebook or Twitter accounts.

Umpire Management

Take the guesswork out of managing your officials. They can indicate their availabilities for particular dates at particular venues, and then Spawtz will highlight to you whether they are available or not, and flag clashes when they are playing in another fixture or umpiring another game at the same time.

Create and Track Memberships

Allow customers to become "Members" and track when their membership subs are due or memberships expire. Run reports to show whose memberships are due for renewal soon, and contact all members at once via email or sms.

Take Court, Pitch or Room Bookings Online

Allow customers book courts online via a simple online booking process, and allow them to pay for those bookings online via a payment gateway. Get notified when anyone creates a booking, and communicate with online bookers via email or sms.

In Depth Reporting

Draw reports to show revenues, registration counts, fixture counts, required official remunerations, team sign in sheets, KPI reports for governing bodies, and many more besides. Print directly from the report screens, or export the data to Excel for further work. Custom reports can easily be created, so however you need the data, we will display it to you.

Quick Lookup

Press Ctrl + G from anywhere in the system to bring up the Quick Lookup box. Enter part of a team or user's name, email address or phone number to quickly bring up all the pertinent info on that team or user including their next fixture, their contact details, what memberships they possess and links to their profile, statement, player list etc.

View Team and Player Financial Statements

Show a player or team's statement so you can quickly determine what they owe and for which items. The information on statements can also be collated into reports so you can see how your venue or league is doing overall and how much money is outstanding etc.
Spawtz is an online application hosted maintained by us (SaaS). There is no setup fee. We also charge no fee to configure the system to use the existing look and feel of your website, nor do we charge a yearly support fee or a fee for system upgrades.
We bill you on a per team/per registration basis. The more registrations you have the less we charge you for each of those registrations. We bill you quarterly for all the registrations that took place in that quarter.
| Service | Cost |
| --- | --- |
| Setup fee | FREE |
| Integration of existing look and feel | FREE |
| Integration of payment gateway | FREE |
| Yearly support | FREE |
| System Upgrades | FREE |
If each of your teams have ten players, the cost per player works out at about one pound per player per season.
We find that billing this way benefits both our customers and us. If you are having a bumper season your registration costs as a percentage of your revenue go down as we charge less for the per team registrations. If you are having a slow season, you pay us less because you have not had as many registrations. And as the system is hosted and maintained by us, all system upgrades are free and all support is free.
Costs per registration (in a 3 month period)
| | |
| --- | --- |
| 0 – 100 teams | £15/team |
| 101 – 150 teams | £12/team |
| 151 – 200 teams | £10/team |
| 201 – 250 teams | £7/team |
| 250 + teams | £5/team |